The safety of your industrial athletes has never been more crucial to the operation of your enterprise. In the midst of the war for talent, most employers are putting in place stringent measures to plug burgeoning employee injuries, turnover costs, and resignations. Industrial athletes are no exception. Ensuring their safety is an excellent way to build a productive and mutually-beneficial relationship with your workforce.
The biggest issue right now is the aging workforce plus the hot labor market, plus the compounding effect of employee injury. Employee injuries compound when employees are asked to step in for injured ones, increasing their physical workloads and MSK injury risk. This piece will cover industrial athletes, ensuring their safety, CoachMePlus, and everything in between: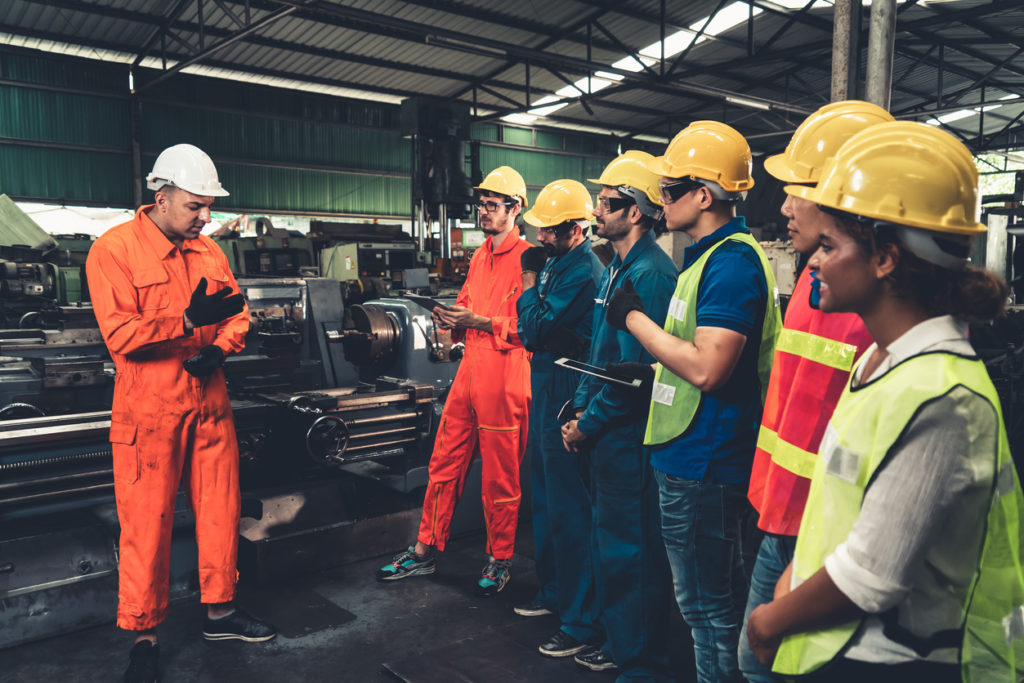 What Is an Industrial Athlete
An industrial athlete is defined as a frontline worker who uses their bodies to perform their primary job function. These individuals are also defined as occupational athletes. Operating at top physical condition is crucial to employee productivity, delivery, and quality of work, similar to pro athletes.
You're already aware that injuries (especially of your occupational athletes) are terrible news for your overall business, productivity, and bottom line. What you may not be aware of is how frequently they occur, the externalities, and the enormous extent of the damage.
Here are a few statistics and studies to put the cost of workplace injuries into perspective:
In 2020, there were 1,176,340 cases of injury in the private sector that caused loss of work which was 32.4 percent higher than in 2019.
65,000,000 days of work were missed in 2020 due to work related injuries
Overexertion and bodily reaction to stress are leading causes of workplace injuries
The average cost per medically consulted injury is $44,000 (per the above statistics)
The incidence rate for total recordable cases in the private sector was 2.7 cases per 100 full-time equivalent workers
In the age of labor shortages, mass resignation, and a competitive labor market, an injury–or two–of your key occupation athletes can easily turn into a productivity nightmare. And the cost of worker's compensation is just scratching the surface. Within a few weeks, it can threaten the continuity (and morale) of your operation, send your HR department on a frantic four month-search for a replacement, and blow your legal costs out of proportion.
Your occupational athletes put their bodies in the line; hence, their chances of getting injured and yours of paying a hefty price increase significantly.
Don't Be a Victim of the Status Quo for Industrial Athletes
Fortunately, technology has come a long way from the 70s. Systems such as CoachMePlus are a testament to this. While many workplace injuries can be unavoidable and hard to place, musculoskeletal injuries are easy to identify. They could be significantly reduced and mitigated using a system such as CoachMePlus, which means taking the 2nd largest cause of injury out of the equation.
When unavoidable injuries happen, CoachMePlus will centralize your reports for insurance and worker's comp to show the many ways your company has worked to protect employees.
CoachMePlus' Vision for Your Industrial Athletes and the Power of Automation
CoachMePlus started as an athlete management system used by over 220 professional and NCAA sports teams to track, augment and visualize athlete performance. However, the utilities of a system such as CoachMePlus blur industry lines. As you'll see, it's finding a unique application in creating effective programs, health and performance tracking, and training of occupational athletes.
The CoachMePlus vision is to empower your industrial athletes through automation and bring all aspects of your industrial athletes within reach under a single dashboard. This covers everything from automating the training and productivity tracking to injury prevention and recovery of your industrial athletes.
1. Track Workers through Wellness Questionnaires
Tracking the wellness of your employees through questionnaires is employee safety 101. However, using patched-together spreadsheets, dusty files, and sticky notes is not feasible in this day and age. After injuries accurate documentation is required for any insurance claim. By having a centralized platform to pull this information, any number of people can input information to be reported on. This is what inspired CoachMePlus to usher employers into an era of paperless, intelligent, and comprehensive self-reporting through automated wellness questionnaires.
With such a system, employees won't need to queue to return a questionnaire. The digital questionnaires by CoachMePlus are customized and designed to increase compliance while decreasing apathy. This is achieved by allowing them to fill them from any point of convenience and without duress of time.
2. Monitor Workers through Wearable Device Data
Although questionnaires are an effective means of getting feedback from your employees, waiting an entire day to give a report is counterintuitive. Many people don't have the memory to report something that happened 7 hours ago. Besides, everybody wants to go home at the end of the day, so one more thing is just going to be rushed. This necessitates the need for proactive feedback that is convenient to your occupational athletes and gives more detailed insight.
Wearable devices are an excellent source of proactive data. By integrating with any wearable device, we are able to stay data agnostic. They can help you track and visualize the health vitals of your industrial employees at all times of the day, bringing an end to the era of guesswork and intuition. This data comes into the app and can send automatic data alerts when workers hit an unsafe level.
3. Develop Pain and Soreness Trends
Are all your athletes developing back problems when operating a specific machine or shoulder soreness when performing a certain activity? There's a chance that most of your workplace injuries are preventable. Maybe they follow a pattern, have a similar buildup of symptoms, and are caused by the same set of conditions. Nevertheless, the truth is that you'll never get to know (and utilize) such crucial information until you invest in a system that revolutionizes the visibility of your industrial athletes.
CoachMePlus is one such system. It will help you develop pain and soreness trends, enable you to demystify your workplace injuries, and leverage data-based decision-making in your workflow planning.
4. Monitor the Hydration of Your Employees
One insightful study discovered that dehydration of as little as 3% body loss can have the same effect on a worker as having 0.08 blood alcohol content. With these comes slow reaction times and poor cognitive function that may lead to an injury. Subsequently, workplace injuries are lowest in cold months and highest in hot months when dehydration is highest.
That's why making fluids available to workers and encouraging them to drink it often is a simple safety measure. With that, CoachMePlus will make worrying about dehydration employees a thing of the past through alerts and reminders. It also makes tracking of dehydration patterns possible by pre and post-shift weighing. By identifying the amount of water weight lost during a shift, CoachMePlus can recommend what to drink to get your hydration back on track. For example, if your athlete is tired because of their inconsistent or non-existent hydration, the CoachMePlus system can automatically propose drinking a particular amount of water frequently.
5. Automatically Assign Fitness and Recovery Programs
The CoachMePlus system can automate diagnosis, find the prognosis, and assign recovery programs for your industrial athletes from input data. Most solutions are just a pdf. Wouldn't the ideal solution be to assign personalized programming tailored to the individual just link in the pro's. Any test, alert, or program can be automated so the worker gets the exact programming and resources they need exactly when they need them.
The system can also track sleeping patterns and their relation to fatigue and eating habits. It also assigns recovery programs to help your occupational athletes mitigate their symptoms. In addition, you can use the CoachMePlus system to automate the delivery of any existing programs for your athletes.
6. Scale Personalized Intervention
Given that each business operates under a unique set of circumstances, your AMS should reflect your needs. Designing alerts that are important to keeping your workers safe, and reminders to drink fluids, take breaks, or log information will bolster your safety programs. Each employee can have different reminders or objectives, since risks and work expectations are different from employees depending on health risks and roles at the company.
CoachMePlus enables maximum customization of its alerting and notification, visibility, and automation. Thus, allowing you to better meet your individual industry needs.
Above all that, the CoachMePlus system acts as a bridge between your occupational athletes and their coaches, trainers, and health practitioners. It can scale consultations between your workforce and their practitioners without having to go through the corporate bureaucracy.
Such a system makes driving interventions at scale less of a hassle, more efficient, and effective.
7. Alerts and Notifications
Real-time alerts and notifications are a crucial aspect of your industrial athlete management. They help take the guesswork out of maintaining safety standards and gaining visibility for your key employees. CoachMePlus can be programmed to automatically alert the worker and manager when certain risk factors are present. That can be anything from time working without a break, hydration factors, or movement screens.
The alerts and notifications from CoachMePlus will help you track movements and safety patterns, nutrition, and hydration. In addition, the custom alerts feature also allows you to customize your alerts to track when workers are at highest risk for MSK injuries. Notifications can immediately be sent to the manager so an intervention can take place to protect the worker.
What's Next?
CoachMePlus supports workers safety and wellness. Companies have clear data to show interventions taken to protect their employees. The workers have information available to improve their day-to-day personal abilities (like hydration and pre-work movement). By making a safer and more supported workplace, your employees will face lower turn-over, and have more productive shifts.
Using an Athlete Management System will reduce costs both directly and indirectly. With fewer insurance and worker comp claims, you will save money (obviously). In 2020 the average cost per employee workplace injury was $1100 and $44,000 for a medically consulted injury. But with less turn-over due to injury, you will save time and money on training costs, hiring, and your workers will improve productivity when their physical needs are being met.
For more information on how to get CoachMePlus implemented into your workplace, contact us today, and our team will be more than willing to help.