The HAPPY ME RETREAT: Azores 2020 (Portugal)
March 19, 2020

-

March 24, 2020
"I had such an incredible period of growth during last year's Azores retreat. Rimi and Maria compliment each other beautifully and the Azores are magical! "

-Julie Gamage, New Hampshire
Join Transformational Life Coach, Maria Salomão-Schmidt and Yoga Guru Rimi Chakraborty for a unique 6 day/5 night retreat to Azores, Portugal, where you'll experience the culture, taste and feel of this absolutely stunning sub-tropical island. The Azores are a magical, volcanic land, full of natural, raw beauty, a temperate climate and endless amazing activities. Truly a paradise, and just over 4 hours from Boston or New York!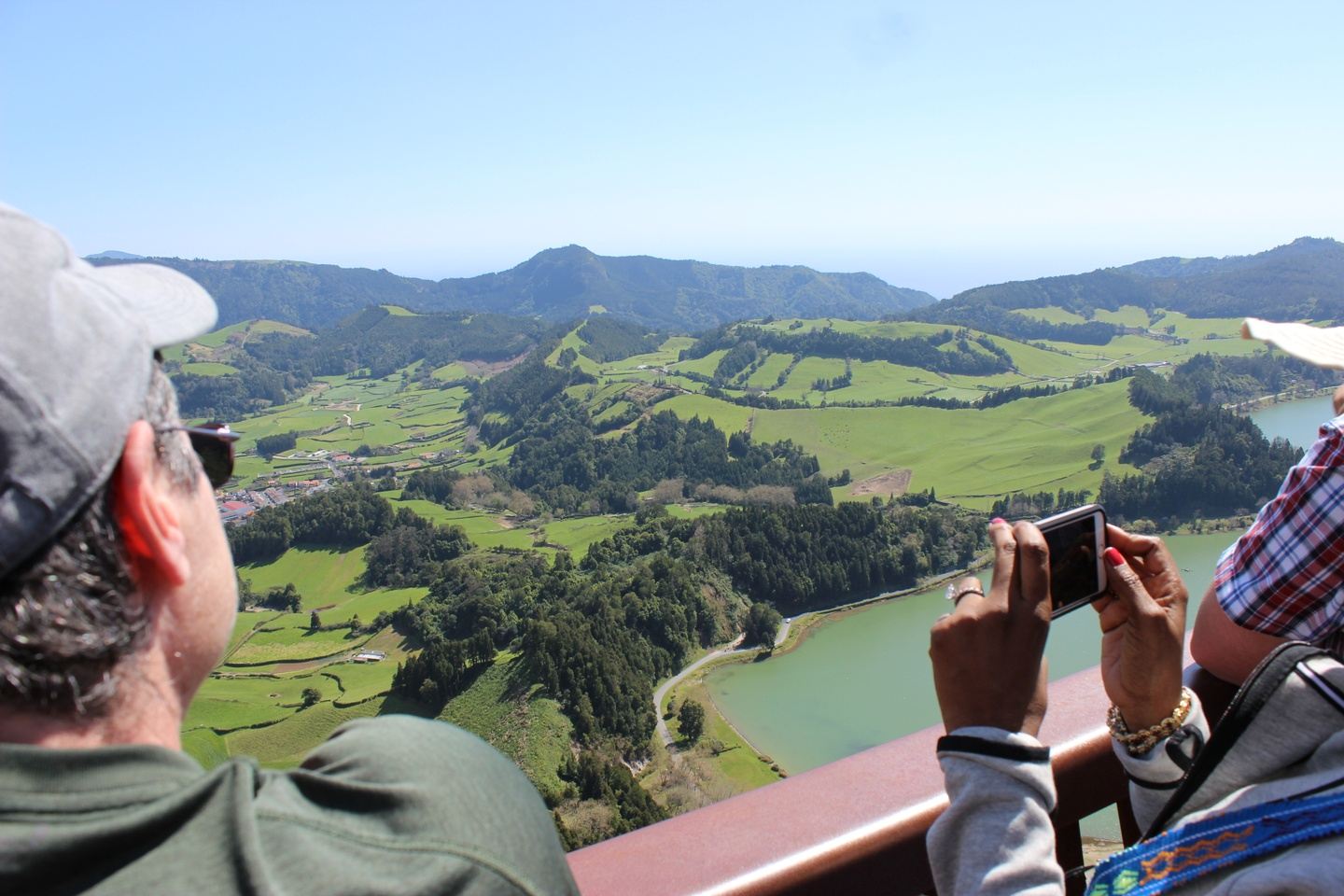 Re-Start Your Life… Get rid of stress, boredom, sadness, and depression. This once-in-a-lifetime trip is specifically designed to re-set your life. Your days will include creative and inspiring workshops and activities based on the book Finally FULL Of Yourself: Unlocking Your Spiritual DNA, including hikes to some of the most incredible vistas on the island, soaks in natural hot springs, and exploration of neighboring towns.
There'll also be plenty of time for respite and retreat amongst the beautiful fruity orchards of Quinta Minuvida, our home for the week. The meals will give you a true taste of delicious Azorean fare, because they are made from fresh local ingredients, lovingly made from scratch. Our accommodations feature lovingly renovated suites, each unique and gorgeous, with its own private bathroom.
Space is limited to 13 . We anticipate this retreat selling out, so please reserve your spot ASAP if you're interested in joining.
What's included:
6 day/5 night lodging at Quinta Minuvida:

Unique orchard lodge surrounded by gardens, fruit orchards (help yourself!)
Saltwater pool
Firepit
Greenhouse
Private areas for relaxation, journaling, meditating, reading… Simply BEING!

Daily aha-filled, super-fun, sacred and powerful workshops led by Maria based on aligning your life's energy systems including these topics…

Breathwork
Emotional Freedom Technique (EFT)
Guided Meditation
Yoga
Meditation
Energetic Detoxing
Zentangling
Shamanic Journeying

An orchard tour by the owners of Quinta Minuvida, João & Rimi
Hikes & nature walks in some of the most pristine nature you've ever experienced
Evening dinner excursions in neighboring towns, with time to explore new places
Whale and Dolphin watching (dependent on weather)
Walking on canadas, old farming roads, including one optional walk to a nearby Chocolate Factory (did someone say "CHOCOLATE FACTORY"!?) 😉
Lovingly-prepared, locally-sourced meals. Some at Quinta Minuvida and some at nearby restaurants. We'll work to accommodate your dietary restrictions.
One alcoholic beverage (local wine) provided at each dinner for those who drink.
Excursions to some of the island's best hikes, relaxing hot springs, and local towns –  all guides and transportation to and from group excursions are included.
Roundtrip airport transfers from Ponta Delgada Airport (PDL) to Quinta Minuvida and back (about a 15 minute ride each way).
More information and Photos Of Last Year's Amazing Trip… CLICK HERE
What's Not Included:
Airfare to Ponta Delgada (PDL). We'll let you know which exact flights to book, about $600 on Azores Air/SATA.
Additional alcoholic beverages (one is included with each dinner).
We provide free time for two lunches so you can explore local restaurants.
Transportation on free days.
Airport transfers are not included for those not traveling on the group flight.
"I, too, had a wonderful retreat with Maria. The setting (at the Quinta), the food, trips, and most especially the other women I got to know, made the trip just what I needed."

-Linda Barrett-Stetson, Massachusetts
Free Time Options: (Additional costs)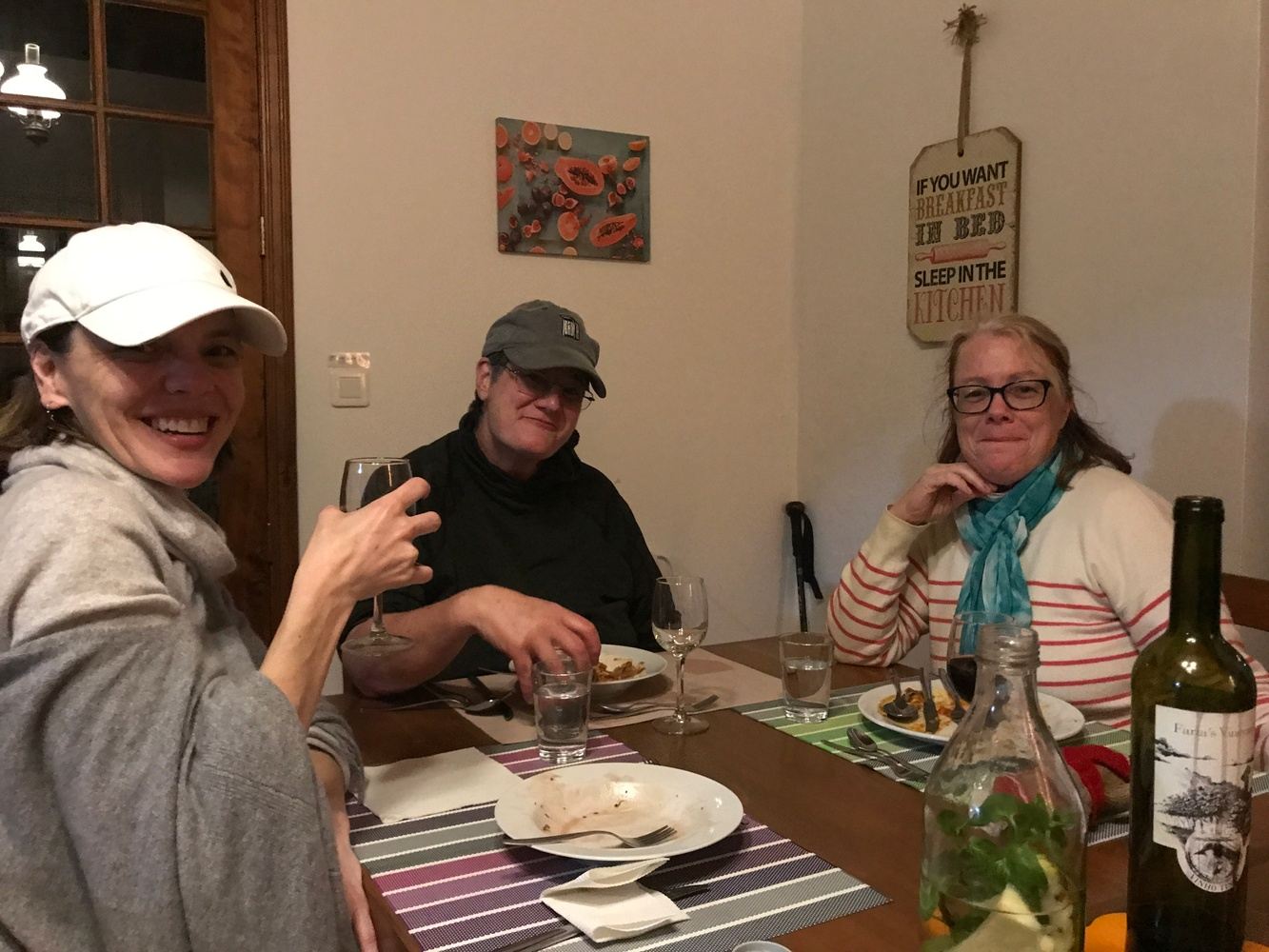 Massages at Minuvida
Visit to Caldeira Velha, a beautiful natural park and hot spring
Free time for outdoor activities for the true adventure junkies like horseback riding, canyoning, mountain biking, surfing, etc.
Two Pricing Options:
Single Accommodations… You have your own private room. (very limited spots available)
Shared Suite Accommodations… You share a room with others. Each person has their own bed.
Ready to learn more? Read on!
Map it: The Portuguese Azores islands are a magical, volcanic land, full of natural, raw beauty, a temperate climate and endless outdoor activities. Located in the Atlantic Ocean, about 1,000 miles off the coast of Portugal, an adventure lovers paradise, and under 5 hours from Boston.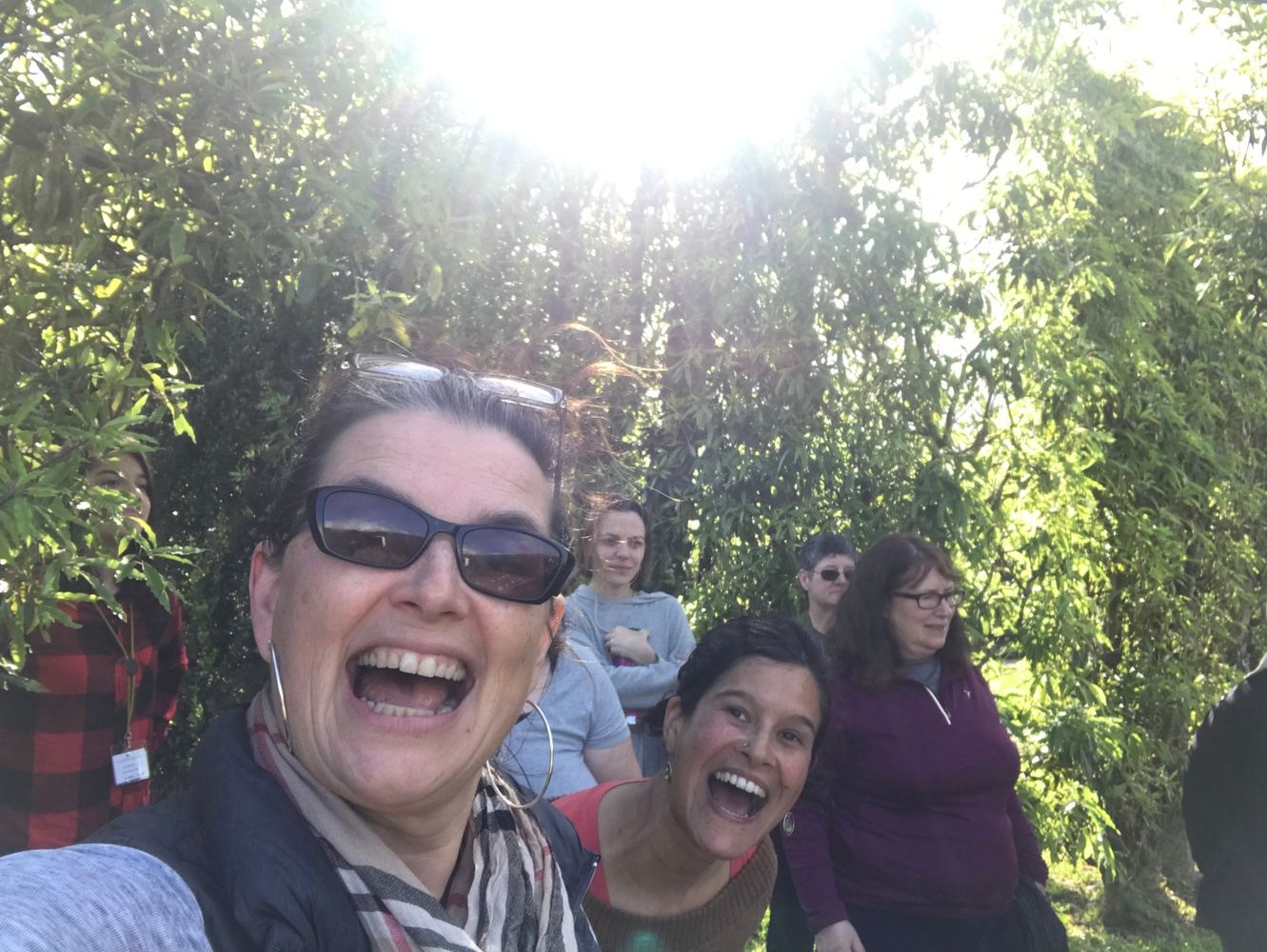 Discover the island: Our week will include opportunities for deep connection with the senses in nature. There is no better to get to know and feel a place than through the locals. We partner with local guides to explore the island and aid you in your journey of self-discovery.
Discover some of the most pristine corners of the island during our hikes. Breathe and feel the breeze on your skin, smell the mineral-rich soil, step on the black sand beaches and verdant green hillsides and taste the ocean air.
You'll also have free time for your own adventure or exploration… For those real outdoor enthusiasts, flights on SATA/Azores Airlines include a free piece of checked sporting gear – so you can take a bike or surf board along for free! For something even more out of the ordinary you can commune with nature on horseback.
An added bonus is spending time with very special and friendly residents – the dogs Biscoito and Moo!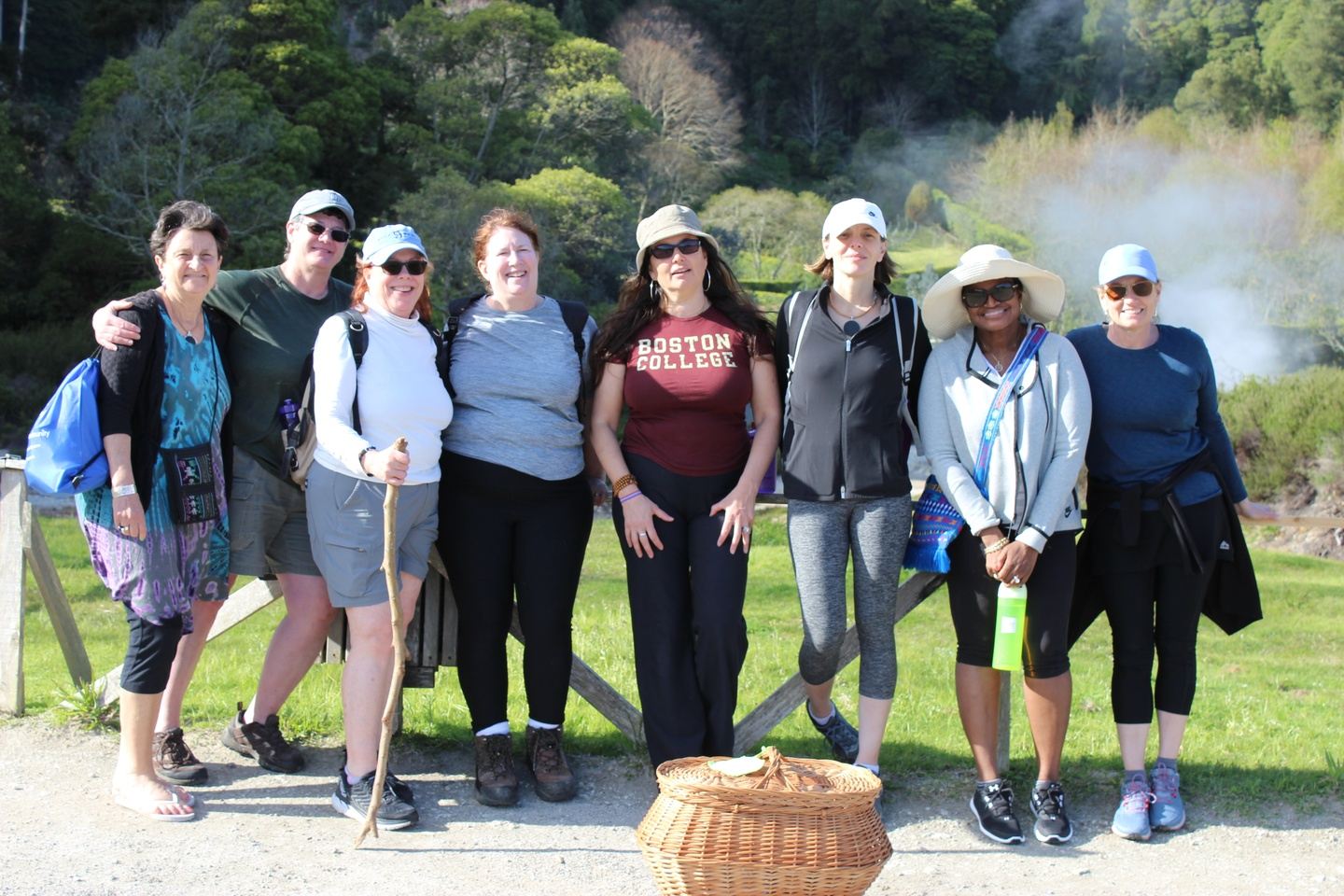 Heart-Centric Lodging:
Our home away from home will be Quinta Minuvida, a beautiful orchard lodge nestled on the slopes of the Fogo volcano. Quinta Minuvida
is centrally located, only 15 minutes from the airport and about 30 minutes from most attractions. The lodge features five thoughtfully appointed suites, large outdoors pool, yoga studio, guest kitchen, fireplace living area, outdoors grills, fire-pit, observatory tower, organic vegetable garden and one acre of orchards. We'll be close to beaches, walking trails, hot springs and bike paths, not to mention the largest fishing port in the Azores. For even more photos of Quinta Minuvida and its grounds, 
click here
.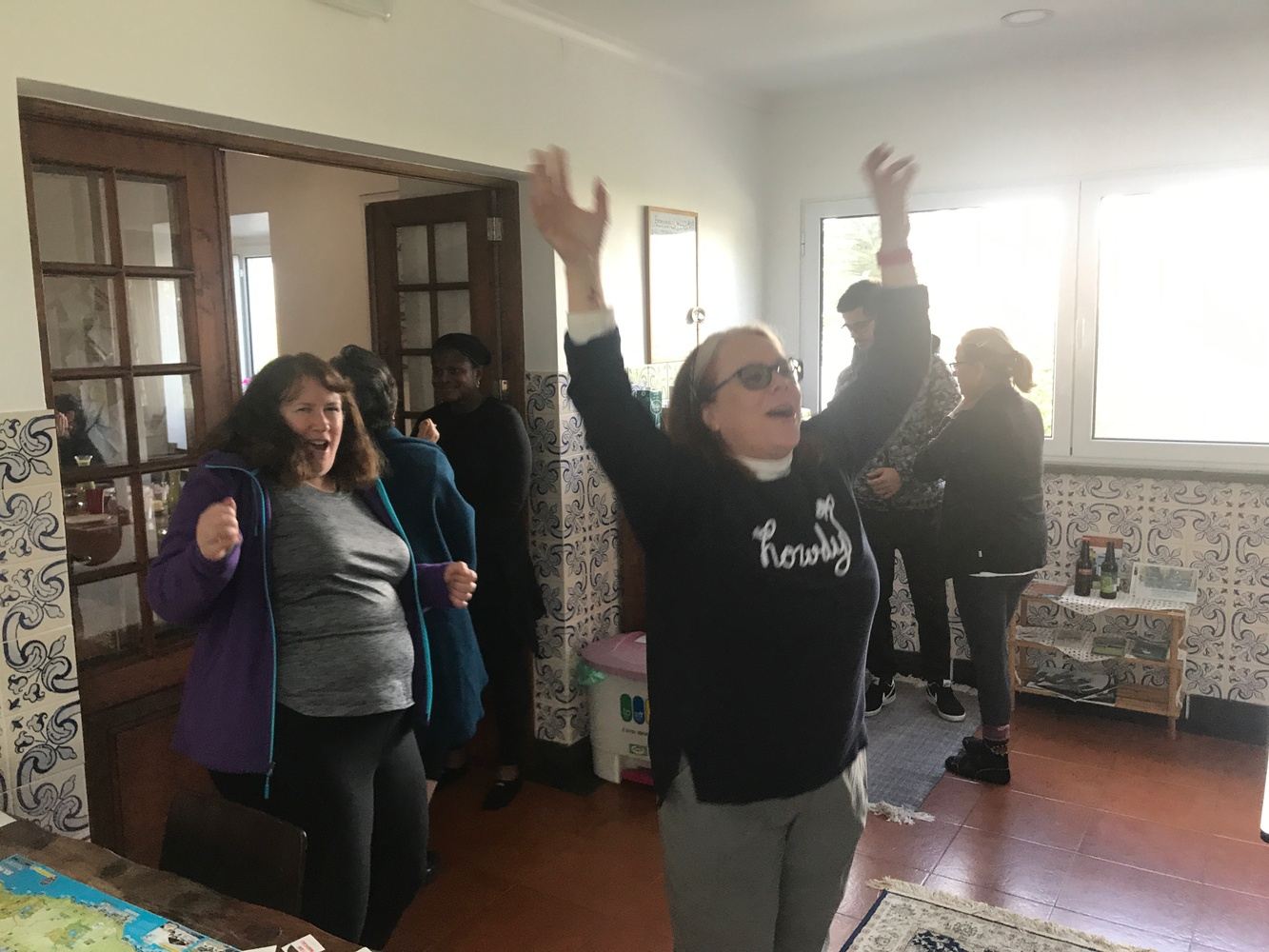 A highlight in our culinary experience is the Minuvida Dinner a five-course sensory food journey inspired by local cuisine using traditional ingredients with a creative twist. Includes local wine pairings and liqueur.
Connection: To Yourself, to Others, to Nature: Our fast-paced digital lifestyle is draining us more than ever before. Unplug from your daily grind for a few magical days. Truly recharge your body, mind and soul. Whether it's with nature, with yourself, or with like-minded people, this retreat offers you the opportunity for true connection.